5 Ways The Data Science Field Has Grown And Made An Impact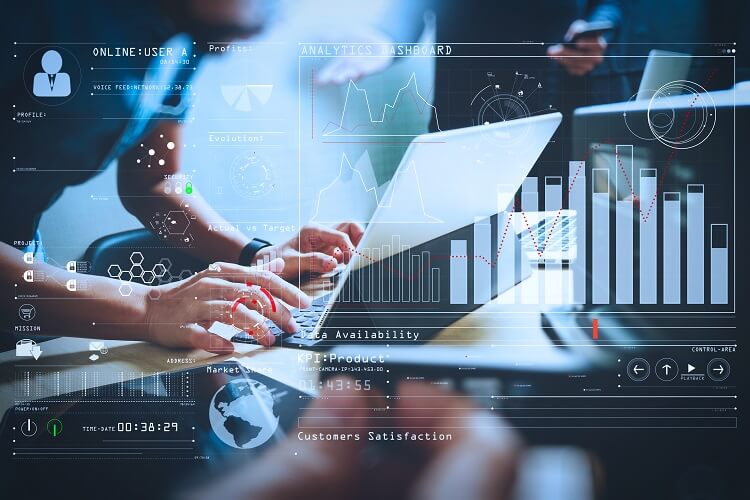 Data science impacts business, but it also influences and improves the world at large. The benefits of data science include everything from more efficient healthcare delivery to hyper-personalized entertainment. In addition, data science helps businesses offer personalized products and services, aids governments in making data-driven decisions and empowers researchers to discover new solutions to old problems.
Advancements in Big Data, Machine Learning (ML), and Artificial Intelligence (AI) are ushering in new possibilities. As organizations rely on data science, the demand for data scientists surges. By 2026, the need for skilled and knowledgeable data scientists will see a 27.9% rise in employment. This outlook makes data scientist jobs one of the most sought-after careers in the United States.
Discover how data science can help businesses and why data scientists are well-positioned to change the world for the better.
What is Data Science?
Data science combines scientific methods, math and statistics, specialized programming, advanced analytics, AI, and data visualization to identify patterns and extract business insights from raw data.
A data scientist helps transform enormous quantities of Big Data into actionable insights. Data scientists demonstrate a computational background and complete coursework in programming, data structures, algorithms, calculus, linear algebra, and introductory statistics.
Students with bachelor's degrees in computer science, mathematics, business, or engineering may pursue a Master of Science in Data Science. A Master of Science in Data Science Online from Worcester Polytechnic Institute gives graduates a competitive edge in the field, with a deeper knowledge of statistics and data analysis software, and a combination of technical mastery and storytelling skills. These leaders are able to add further value to their organizations as they identify opportunities and trends and make better-informed decisions.
Benefits of Data Science
Data science's impact on business is undeniable. Data science is used across industries, from supply chain and manufacturing to healthcare and financial services. Data science adds value to business in the following ways:
Empowering management and officers to make better decisions
Directing actions based on quantifiable trends
Challenging teams to adopt best practices
Identifying opportunities
Testing the outcomes of decisions
Identifying and refining target audiences
Recruiting the right talent for an organization

Data Science's Impact on Our World
The data science field is growing. According to U.S. News and World Report , data scientists rank as number three on the Best Technology Jobs list. Additionally, U.S. News found that there are 19,800 open jobs for data scientists.
Data scientists can use their specialized skills to address the gap in the job market, help organizations leverage huge data sets, and be a part of exciting data-driven outcomes. Learn more about five areas where data science has impacted business, has led to new findings and made the world a better place.
1. Promotion of Environmental Sustainability
Data science is vital for the successful management of the global climate crisis. The UN developed 17 Sustainable Development Goals (SDGs) to measure and track how countries adjust environmental, social, and economic factors to slow climate change. Data scientists use their unique skill set to measure SDGs and help nations manage resources, climate change, and health & equality.
For example , scientists at The Ocean Clean Up used data science to research the ocean's largest offshore plastic zone. They collected data using computational and mathematical methods, analyzed millions of data points to identify what type of waste was present, and estimated the total weight of plastic debris
2. Advancement of Healthcare
During the COVID-19 pandemic, healthcare organizations and government agencies used data analytics to track cases, project the spread of infection, inform health policy decisions, and enhance healthcare outcomes. In one example, Johnson & Johnson (J&J) hired data science experts to create a global surveillance dashboard that forecasted hotspots that informed government officials about how the disease was traveling.
In addition to creating a predictive dashboard, the data scientists at J&J analyzed data to determine the people who might be at the highest risk of getting sick from the COVID-19 virus. The pandemic revealed that data has the power to advance healthcare efforts, even amid unforeseen crises.
3. Empowerment of Developing Countries
Every year, the World Bank scores countries on a scale of 1-100. One represents a complete lack of essential statistical data and analysis capacity, and 100 represents the statistical capacity of a developed nation. During the pandemic, 80% of national statistics offices in lower- to middle-income countries required additional support to perform essential data collection and analysis.
As a result, students have learned technical skills founded in data science to drive tangible change in local communities across developing countries. For example , in Nigeria, data scientists assessed the accuracy, completeness, consistency, and reliability of data to uncover ways to improve the electoral process within the Voter Registration policy. This project demonstrated how data scientists can empower governments and populations to build better systems using data.
4. Improvement of Customer Insight
One of the most beneficial impacts data science has had on business is evaluating, predicting, and prescribing accurate and personalized recommendations to customers. For example, companies like Netflix have used data analytics and machine learning to gather real-time insights about viewer behavior to display movies and TV shows based on a viewer's unique interests.
Organizations like Amazon have also used data science to gather customer demographics, psychographics, and purchase and viewing history to deliver accurate product recommendations. Amazon's product recommendation engine has demonstrated a 35% conversion rate due to its accuracy and specificity.
Data science enables businesses to deliver customers the right message at the right time. As a result, consumers now expect hyper-personalized and seamless user experiences that provide accurate products and services every time.
5. Development of Smarter Leaders
Data scientists and business leaders have partnered together to better understand how data can inform better organizational strategies, inform decisions, and achieve better outcomes. According to experts at Forbes , "Rather than studying how to generate, process and analyze generalized business data, tomorrow's decision scientists will focus on tracking, understanding and improving business decision-making."
Data scientists have become "decision scientists" and are entering leadership positions to help guide organizations. The most successful businesses in the future will be the ones that establish a strong data culture today. For example, Nancy Green , the CEO of Old Navy, is using predictive analytics to manage supply chains better. Green says, "We see the biggest opportunity going forward is really around the power of using predictive analytics to better forecast customer supply to better meet customer demand throughout our supply chains."

Change the World With a Master of Science in Data Science
Whether you have a background in data science or another field, you can take the necessary steps to become or advance your career as a data scientist at Worcester Polytechnic Institute.
The WPI Master of Science in Data Science Online degree program features built-in bridge courses. The program takes place entirely online and features thirty credit hours of coursework that will teach you how to master the skills you need to pursue a career as a data scientist, including:
Programming and math foundations: develop fundamental skills in computing languages, programming concepts, design and analysis techniques, algorithms, statistics, and linear algebra
Data science methods and technologies: learn how to create, manage, and analyze large-scale databases, use relevant statistical methods such as predictive modeling and clustering, and understand machine learning
AI & machine learning or Big Data analytics: choose between these two specializations, or build your specialization from a variety of electives, including Business Intelligence, so that you can tailor your degree plan to the career you plan to pursue.
By earning your data scientist degree at WPI, you will become part of the alumni family at a prestigious, respected university that is ranked:
#4 on the U.S. News & World Report list of National Universities Where Grads Are Paid Well 2021

#5 in Best Career Services by The Princeton Review
Among the top 25 STEM Colleges by Forbes, Top 60 Most Innovative Schools by U.S. News & World Report, and Top 30 Best Value Colleges by Payscale.com
Learn more about WPI's Master of Science in Data Science online degree program.